Gonin's Rife microscope
Microscope
Gonin's Rife Microscope No. 5

Using a digital camera, I was able to take several pictures of the microscope which I am showing here, in reduced size (original picture size is 1280x960), with permission of the Science Museum picture library.

In order to be able to show these pictures on this site, I have signed over the copyright of these pictures to the Science Museum. Please note that these pictures are copyrighted and may not be used anywhere else without prior permission of both myself and the picture library.

Copyright notice

All photographs on this Web page are subject to the laws of copyright. You may not use, copy, publish or distribute the images or any part of the images in any way whatsoever. In addition, you may not remove the image identification mark or alter, manipulate, add to or delete an image or any part of an image. Copyright in all the images remains with the Science & Society Picture Library and the collections it represents. By viewing this page on your computer, you are indicating that you have read and accepted the above conditions.


© Peter Walker and the Science Museum Picture Library 1999

Address:

Science Museum Picture Library
Exhibition Road
London
SW7 2DD
Great Britain

Telephone:

+44 (0)171 942 4400

Fax:

+44 (0)171 942 4401

E-Mail:

piclib@nmsi.ac.uk

Internet:

http://www.scienceandsociety.co.uk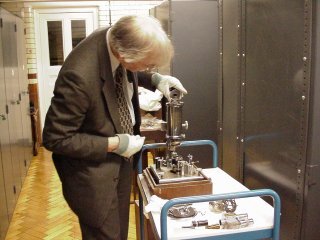 On the 21st December 1999, I (Peter Walker) visited Blythe House (London, UK) where I was met by Mr. Neil Brown who is the Senior Curator, Classical Physics at the Science Museum. He led me through a maze of corridors and up two floors into a store room where the Rife microscope had been put on a trolley ready for me to see.

Mr. Brown told me that most people were disappointed when they saw the microscope as it is obviously not as sophisticated as the "Universal Microscope". When I saw it, I could understand what he meant although it is very interesting all the same. This microscope was not functional despite several efforts in the past to get this microscope working (see Neil Brown's report for details).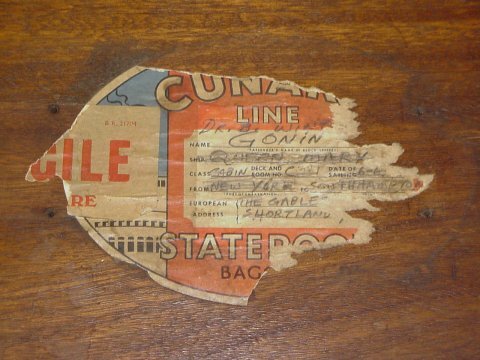 The microscope's wooden case had already been removed when I saw the microscope. The torn sticker on the top gives some details of its route to the UK via New York to Southhampton on the Queen Mary.

The microscope looks a lot less complex than the "Universal" and I was told that it is incomplete. The engraving on the tube definitely confirms its origins as "Designed and Built by Royal R. Rife 1938".